Литературные произведения Запорожского готического портала
Interview with Dark Sanctuary
20.10.09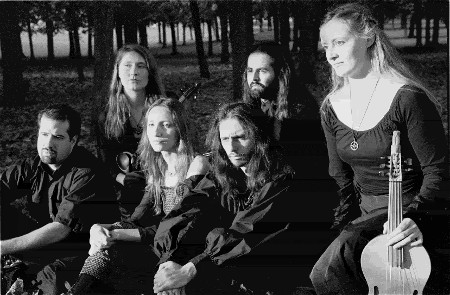 Dark Sanctuary band career began in 1996. the band Dark Sanctuary has achieved worldwide fame. Musical critics describe Dark Sanctuary music as depressive mixed with the atmospheric sounding, played on keyboards and guitars. The permanent leader of collective Arkdae has agreed to answer our questions about his band.
Gothic.zp.ua: What was the impulse to organise your band?
Arkdae: All started in 1996. I used to play on many metal bands, and I wanted to make something different. I always liked Classical music, so I wanted to make something like this. I started to compose some songs alone with my keyboard, and slowly Dark Sanctuary was born.
Gothic.zp.ua: Could you name the motto of Dark Sanctuary?
Arkdae: It`s quite hard to say. May be sharing feelings, communicate. And may be our own pleasure.
Gothic.zp.ua: What inspires the members of Dark Sanctuary band?
Arkdae: Everything. We use to take our own feelings, emotions and experiences, and we try tell a story with them. That`s why our music is very personal.
Gothic.zp.ua: What are the messages of your songs?
Arkdae: We talk about many things on our songs. It`s mainly about sad things of life, but not only. We don`t try go give any point of view, any solution, but only exposing facts by the way of different story.
Gothic.zp.ua: Why have you chosen Gothic / Acoustic / Classical as your musical genres?
Arkdae: We didn`t really choose anything. We just play the music we like, and not for fitting in a particular musical genres.
Gothic.zp.ua: Does your female vocalist have her great voice naturally or is it a long-time training result?
Arkdae: Both. She naturally have a great voice, but, as a lot of thing, a long training is necessary in order to perfect it. She used to take lesson, in order to learn how breath correctly. Singing is not as easy as it looks.
Gothic.zp.ua: How does she keep her voice in shape?
Arkdae: By not smoking too much, and globally have a good healthy life. And the most important, is probably to never stooping singing for too long time.
Gothic.zp.ua: We, Slavic people, from time to time say, "If you have seen Paris you can die.", could you say the same? Do you love this city?
Arkdae: I think yes. I can`t really be objective, becasue I always lived here. For me it`s normal to see the "Eiffel Tower", or place like "Champs Elysée" every days. I had opportunity to travel on many place of the world, and I didn`t find a place like Paris. It`s a very beautiful city, with a lot of history. It`s definitively a place to visit.
Gothic.zp.ua: Does your band use PC much while preparing the musical material?
Arkdae: Yes, of course. It`s very useful for us for preparing songs, and have an overview of the result. We use them also for editing music sheet. Computer are really fabulous tools. However, it didn`t replace any artistic skills.
Gothic.zp.ua: What is your attitude to intellectual piracy?
Arkdae: It`s a quite complicated problem, and it`s not possible to explain it quickly here. I will only say that whatever you can hear or read about it, piracy is definitively killing artists. Things must change, of course, we have to fit with our century, but something must be found in order to help artist to continue creating music. But actually, I don`t see any good idea...
Gothic.zp.ua: You have given many concerts, which were the brightest and why?
Arkdae: I think it was at the WGT in Leipzig. We played twice there. The place was incredible, and people very enthusiastic to see us. It`s probably one of our best memory.
Gothic.zp.ua: Have you had any amusing incidents during your performances? Could you tell us something about those "funny" moments?
Arkdae: Unfortunately (or fortunately), there was not any funny moment during our concerts. Everything was ok !
Gothic.zp.ua: What is your mind about Eastern European Gothic music?
Arkdae: I don`t know a lot about Eastern European music. I only know some bands from Poland, like Artrosis, or some very obscure noise bands from Russia.
Gothic.zp.ua: Are you going to visit Eastern Europe and if yes when?
Arkdae: No, there`s no plan of other concerts. We had an opportunity for playing in Romania, the place look very great, but we had to say no.
Gothic.zp.ua: What are the band plans for the near future?
Arkdae: Well, we decided to have a break for an indefinite duration. Stooping the band was not an easy choice, but we all think it the best thing to do. So, we will have time for all our other side projects.
We will have a new and last album with Dark Sanctuary, in October (a collaboration with the drawer Victoria Frances). Also, we will do a last concert the 3rd October in a church in London (UK). This will be the last opportunity for people who didn`t see us in concert.
Eugene QrystaL, Vasyl Cothurnatus
Source: Zaporizhzhian Gothic Portal
The article reprint is allowed with pasting of the direct and search engines indexable link only.